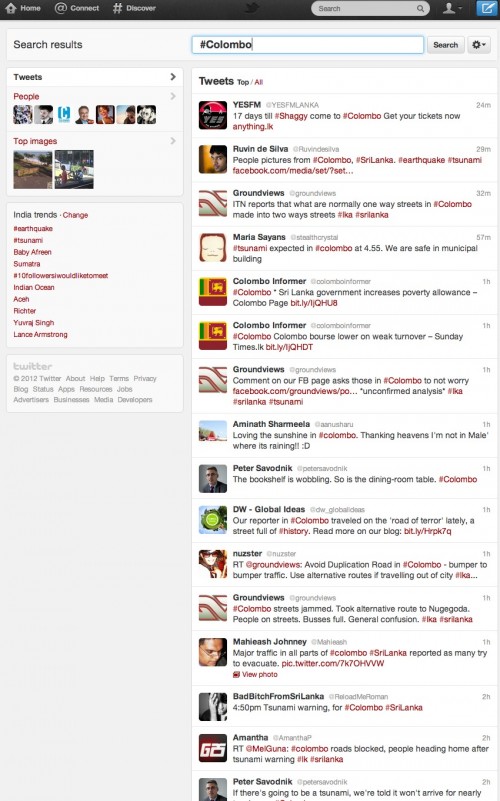 It would have taken a singularly ignorant individual yesterday to not know about the tsunami watch Sri Lanka was under, for a couple of very tense and chaotic hours, after an earthquake and strong aftershocks occurred off Indonesia. Rohan Samarajiva has a good article noting the role social media (Twitter in particular) played in information exchange during and around the tsunami watch. Through the Twitter feed of Groundviews, I alone curated well over 100 updates during the height of the public anxiety over the tsunami watch. At its peak, there were around 5 to 10 tweets every 10 seconds or so on #lka and #srilanka alone, and on #tsunami, traffic coming largely out of India and international wire services resulted in around 60 or more updates, over the same time slice.
However, in what was an incredibly risible display of crass and monumentally ill-timed marketing, a genius at YES FM, for whatever reason, decided to use this precise moment to advertise tickets for a Shaggy concert. Note that at the time this tweet was published, it wasn't certain that a tsunami would not hit our shores. As I noted on Groundviews,
@YESFMLANKA Not exactly the best time to advertise a pop concert, is it?!—
Groundviews (@groundviews) April 11, 2012
@YESFMLANKA Seriously, did the trending interest / topic on Twitter completely escape you?! #lka #srilanka #tsunami twitpic.com/98h1rz—
Groundviews (@groundviews) April 11, 2012
While this example can be put down to an awful failure of basic common-sense, YES FM's tweet is another cogent example of how mainstream media (MSM) in Sri Lanka have little or no idea how best to use social media for professional journalism. And though thankfully a tsunami didn't hit Sri Lanka, I remain unconvinced that while on the one hand, MSM's adoption of web based social media is far more prevalent than even a year or two ago, they fully grasp the potential of the media to engage, probe and collaborate and indeed, shine a light of disasters less telegenic than a tsunami.