Cross-posted from ICT4Peace Foundation website. Originally published on 22 May 2019.
###
Sanjana Hattotuwa, Special Advisor at the ICT4Peace Foundation, was invited by the organisers of Point 8.0 in Sarajevo to participate in a panel discussion anchored to Tech, Fear and Accountability, featuring Victoire Rio and moderated by Stefania Koskova.
The conversation was anchored to social media in general, and Facebook in particular, as a platform or vector for violence and hate, as well as pushback against both in Sri Lanka and Myanmar.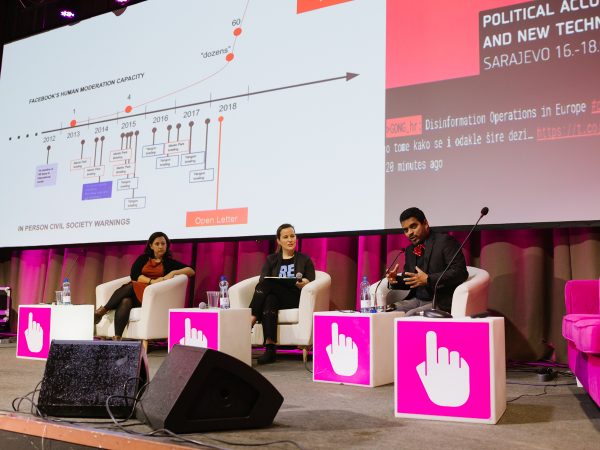 Sanjana was asked to begin by giving a brief overview of Sri Lanka's tryst with social media. The panel was held at a time when the country was commemorating ten-years after the end of war in a context of renewed communal and religious violence as well as political uncertainty. The role, reach and relevance of social media was captured in broad-brushstrokes, both in how it served as an accelerant to infamy as well as, during significant political crises, acting as a vector to strengthen democratic pushback, dissent and activism.
Pushing back against simplistic, mono-causal and single-sourced explanations for violent conflict, Sanjana flagged the importance of studying the complex media ecologies in Sri Lanka, and elsewhere, without first, only and enduringly blaming Facebook for their failures in preventing the growth of violence and hate on their platforms. Sanjana also flagged the migration of users to WhatsApp, noting the issues associated with the transition from platforms academics could monitor and study, to encrypted messaging platforms which are impossible to observe at scale with as much granularity, insight and access to content.
On the importance of getting the technology right in markets like Sri Lanka and Myanmar – countries which Sanjana has worked, trained and conducted research in – he noted that embracing and designing solutions around the complex interplay of challenges could help tech companies seed and scale solutions in other, similar, contexts, countries, markets and communities. Though for years neglected, Sanjana noted how companies like Facebook and Twitter were now investing much more human and technical resources on both countries, as they didn't want to be implicated in human rights violations at scale or discussions where their technology was used to, or directly contributing to, incitement of hate and violence.
Speaking to the challenges around content moderation and curation, at scale, and by companies themselves, Sanjana spokes to technical advancements like machine learning and artificial intelligence that in the years to come could make a significant impact, aside from regulatory, legal and other challenges in countries with a democratic deficit. But speaking to that deficit, which is growing in Sri Lanka and indeed, in Myanmar, the central challenge for companies dealing with both countries, albeit at different scales, was how to deal with a language spoken nowhere else, a growing market, sophisticated content production strategies, misinformation at a growing pace, nuance and scale and inauthentic behaviour on platforms by state actors or their proxies.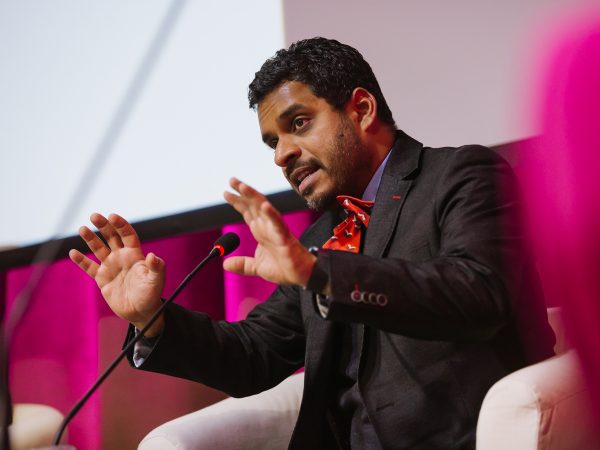 Recalling and re-affirming the ICT4Peace Foundation's participation in, and endorsement of the Christchurch Call by New Zealand PM Jacinda Ardern and French President Emmanuel Macron, Sanjana said that the regulation of technology was fraught with challenges including around uncritically and with hidden, parochial self-interest, implementing legal frameworks around fake news and misinformation enacted recently in Singapore and Australia, and contemplated in other Western countries.
Sanjana ended by highlighting several points around how a radical and urgent course correction was needed, by all the main social media companies, to move away from 'growth hacking' to measures taken to rid platforms of toxic, harmful and hateful content. He noted that what was for years a plea, call and request from small countries, which went unheeded, was now the very thing that these companies were pivoted to, and anchoring their business goals to reflect, strengthen and expand on.
A short write-up of the session by the organisers can be found here. A video of the session can be seen below, or on YouTube.